Biggest winners and losers for Ohio State following 2023 NFL draft declaration deadline
Joey Kaufman
The Columbus Dispatch
The deadline to file for early entry for the upcoming spring's NFL draft passed on Monday with the most high-profile decision involving Ohio State.
C.J. Stroud, the Buckeyes' star quarterback who was twice selected as a finalist for the Heisman Trophy and led them to a near-upset of Georgia in a College Football Playoff semifinal last month, announced he was leaving school, forgoing his remaining seasons of eligibility to declare for the draft.
C.J. Stroud:How many Ohio State football records does quarterback hold?
'Getting Marv ready for his Heisman':Ohio State football fans react to Brian Hartline promotion
The declaration made Stroud the fifth underclassman from Ohio State to reveal plans to turn pro, following offensive linemen Paris Johnson and Luke Wypler, receiver Jaxon Smith-Njigba and safety Ronnie Hickman.
In the aftermath of the draft decisions, here's where the Buckeyes were helped and hurt the most.
Winners
Second level of defense
The Buckeyes might lay claim to the Big Ten's best linebacking group with the return of Tommy Eichenberg and Steele Chambers. The starting tandem smothered ball carriers throughout this past season, one of the biggest areas of improvement for a defense that had been gashed often in the previous year before Jim Knowles took over as defensive coordinator to rebuild that side of the ball. In a conference filled with run-heavy offenses, they remain well-positioned to bottle up most backs.
Expect Eichenberg, who was among the most productive tacklers in the Football Bowl Subdivision, to be among the preseason favorites for the Butkus Award as the nation's top linebacker and possibly the biggest star for Ohio State on defense since Chase Young lined up on the edge in 2019. His presence should further help with continuity and leadership as the Buckeyes transition into the second year of Knowles' system.
Quarterback support
The odds were stacked against Stroud's return, no matter how much he waited before making a formal announcement, preserving a gasp of hope among Buckeye Nation, so there's long been a likelihood of either backup Kyle McCord or Devin Brown being a first-time starter behind center in 2023.
Due to the inexperience, it was notable that most of the skill position talent put off the draft, especially tight end Cade Stover. After catching 36 passes, Stover was Ohio State's most productive receiving threat at the position since Rickey Dudley had 37 receptions in 1995. He should be a security blanket for whoever wins the starting job. Neither Marvin Harrison Jr. nor Emeka Egbuka was draft-eligible, but Julian Fleming was. His return for his senior season bolsters the top of the depth chart with another productive target.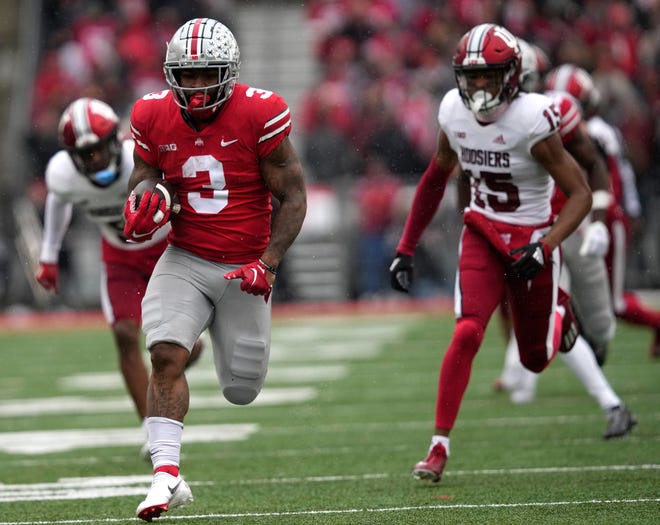 Backfield
No position was more injury-ravaged last season than running back. Foot injuries hobbled the 1-2 punch of TreVeyon Henderson and Miyan Williams, and options were limited behind them. Evan Pryor had gone down in August with a season-ending knee injury. At midseason, Chip Trayanum moved over from linebacker to provide relief. The return of Williams for a fourth season leaves the Buckeyes with their most physical runner available and in a good spot depth-wise, especially after they did not add a running back during the early signing period last month. They'll now have at least four on scholarship for next fall with Henderson, Williams, Pryor and Dallan Hayden and a possible fifth if Trayanum stays on offense.
Losers
Offensive line
A major rebuild awaits offensive line coach Justin Frye this offseason with three out of the five starting offensive linemen leaving for the NFL.
Not all of the departures were unexpected. Johnson, who was named a consensus All-American as a junior, is positioned to become only the Buckeyes' second offensive tackle taken in the first round since Orlando Pace went No. 1 overall in 1997. The Cincinnati native was also the program's most decorated offensive line recruit following Pace from three decades ago.
But the move by Wypler, leaving for the NFL after he anchored the offensive line for two seasons, came as a mild upset and makes for an even more involved overhaul up front, potentially prompting right guard Matt Jones to move back to center. (Jones' return for his extra year of eligibility due to the pandemic does cushion the blow). Still, there will be a lot of reconfiguration and a new blind-side protector. Ohio State has targeted a few tackles in the transfer portal, though most of them have committed elsewhere.
Safety
Knowles referred to his defense as safety-driven soon after his arrival in Columbus last year, and it's now less experienced at the all-important position. Losing Tanner McCalister was a given. McCalister, a transfer nickel safety from Oklahoma State, had been in his last year of eligibility. But Ronnie Hickman's departure for the NFL, bypassing his senior season of eligibility, means the Buckeyes will need someone to take over as the adjuster, the free safety spot who handles pre-snap adjustments in the secondary.
Lathan Ransom does return, and the Buckeyes have added Ja'Had Carter, a top transfer safety from Syracuse. But having Hickman, one of their most productive defenders, would have been the best-case scenario, and his absence stresses an area of the defense that was vulnerable to big plays late in the season.
Joey Kaufman covers Ohio State football for The Columbus Dispatch. Contact him at jkaufman@dispatch.com or on Twitter @joeyrkaufman.
Get more Ohio State football news by listening to our podcasts