Michigan football's lifeless loss to Penn State shows a program that is broken
Andrew Stueber was again under pressure. The bull rush came from reporters, and Michigan football's right tackle found himself in an awkward position as if he were fending off a stunt at the same time he stared down a linebacker on a delayed blitz.
The 21-year-old Stueber was left to answer for a broken program in wake of its latest setback, a 27-17 loss to Penn State on Saturday in Ann Arbor.
So, the senior lineman did what he knows best: He protected and deflected.
Asked multiple times Saturday if his team has a culture problem, Stueber flashed a look of annoyance as he neutralized the pointed questions.
"That's just a lot of noise you cancel out," he replied in one breath.
"I think on offensive, defensive and special teams side of the ball, everyone is behind their coaches," Stueber continued in another.
The negativity around Michigan football reached critical mass around mid-afternoon as the Wolverines' fate was sealed against an opponent that was winless when it took the field.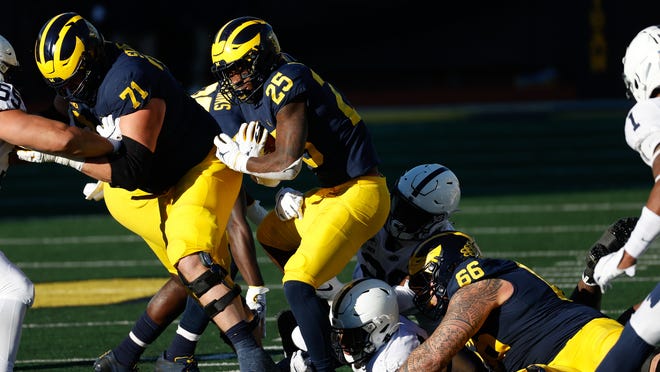 [ FOR SUBSCRIBERS:Michigan football is running out of excuses for this disastrous season ]
For more than three hours Saturday, the Wolverines looked like a feckless, rudderless bunch, losing their spirit with each possession foiled and every first down yielded. Trailing by 10 points heading into the fourth quarter, Michigan never threatened to mount a comeback. Rather, the Wolverines appeared beaten — enduring a long, torturous slog of a fourth quarter similiar to a wounded animal that wanted to be put out of its misery.
"I hate losing," Michigan coach Jim Harbaugh insisted afterward.
But a man who is 11-10 in his last 21 games didn't deliver that statement with much conviction.
Instead, it was lip service for his dwindling contingent of supporters.
The ones who have already abandoned the Harbaugh bandwagon watched as the competitive fire that once fueled Michigan's coach has dissipated to the point where he's now running on empty.
No, Harbaugh said Saturday. That's not true.
"Coaching it hard. Coaching it to the best of our ability," he claimed. "I see that with our players. I see it means so much to so many. The effort is high."
But many who watched the game Saturday would arrive at a different conclusion, especially after witnessing Michigan's last offensive play.
Needing one measly yard on fourth down, the Wolverines couldn't generate enough push to stretch the ball three feet beyond the line of scrimmage. Instead, Joe Milton was stuffed at Penn State's 37-yard line with 5:37 left in regulation.
Right then and there, Michigan's will was extinguished.
But even before that, their motivation had ebbed.
MORE MICHIGAN FOOTBALL COVERAGE
GRADES:See how many F's Wolverines earned for performance vs. Penn State
ANALYSIS:Michigan has no answers, just the same problems from earlier this season
Michigan's defense bent like a willow branch from the outset. It surrendered 5.1 yards per rush attempt to a team that was missing its top two running backs. When Wolverines weren't pushed back at the point of attack, they missed tackles in bunches and in one groan-inducing sequence resembled the Keystone Cops as they tried to corral freshman receiver Parker Washington.
"There's no excuse," defensive end Taylor Upshaw said.
Later, Upshaw said, "It's frustrating."
This kind of performance has become par for the course for Michigan. On Saturday, it didn't matter who was at quarterback — an injured Cade McNamara or an ineffective Milton. The Wolverines rarely showed signs of life.
They appeared as hollowed-out as the empty 107,000-seat stadium in which they played.
"If the powers that be decide there is a problem," Stueber said, "then so be it."
That assessment certainly won't be left up to a 21-year-old right tackle.
How can he determine whether Michigan's culture is broken?
But the mere presentation of the question is troubling. It should bother Harbaugh and the university's administration.
They're the well-compensated caretakers of a program that has lost its way long before it ever took the field Saturday for one more soul-crushing defeat.
Contact Rainer Sabin at rsabin@freepress.com. Follow him on Twitter @RainerSabin. Read more on the Michigan Wolverines, Michigan State Spartans and sign up for our Big Ten newsletter.